Each weekend a picture of a special bench in The Faery Crossing will be posted. No hints other than the picture
Any time during the weekend and following week, find the special bench and look around for a Faery Crossing box (decorated with the FC Standard- The Lady of Shallott). Every special bench will harbor the FC gift for a week.
Touch the gift box. You will receive a gift from Faery Crossing (a new, seasonal gift each month) AND you will be automatically entered into the Benches of Faery Crossing Contest. For each weekly bench gift that you find you will get a point.
A different bench will be posted each weekend for you to find, and it will remain the special bench until the following Friday.
Do this every week and at the end of the season you will be automatically entered in our Benches of FC Contest. The top ten scorers will get a prize.
So watch for postings each weekend for a picture of that week's special bench, find it, and search all around it for an FC box. Touch the box for a gift AND to be entered into The Benches of Faery Crossing Contest automatically!
Bright Blessings,
Qim Toxx and Moz McGinnis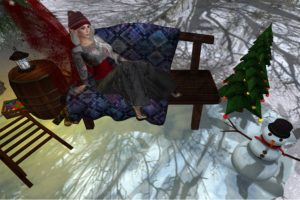 Here is a picture of Winter Bench #1