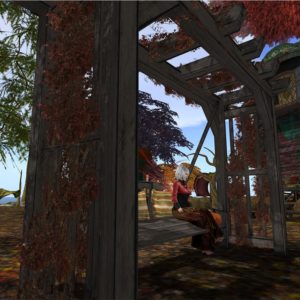 Each season Faery Crossing is decorated with dozens of benches on which you can rest awhile as you explore the lands. Right now you can wander about and settle on autumn benches and swings, and take lovely snapshots to remember your travels. Some benches are along well beaten paths – others are in quiet spots far from the busy lanes.
This weekend we are starting a weekly hunt… "The Benches of Faery Crossing". A picture of the special bench each week will be posted.
Wander about and if you find the special bench, save your location coordinates. Don't share this with anyone else! A different bench will be posted each weekend for you to find. At the end of the season you will be given a chance to send in your list as an entry to our Benches of FC Contest. The top ten scorers will get a prize.
But you don't have to wait until the end of the season to win something! One of the special benches each month will harbor a gift hidden somewhere on or near the bench, and EVERYONE who finds the hidden FC gift box will get the gift by touching the box.
For more details see in-world group notices.
Happy exploring!!